Batten
Teak low armchair
Delivery on quote
Delivery on quote
Advices & purchasing

+33 1 47 03 05 05
The Batten collection was an immediate hit with the jury of the design competition organised by Tectona in 2017. The collection, in solid teak, has fun with the spaces between battens, creating a rhythm of regular filled and empty spaces, and at the same time provides comfortable seating. The design is in the form and comfort. Harmonious and well-balanced proportions feature in every piece of this collection, which has expanded this year with the addition of a lounge and a new table size. The low armchair is sold with the seat cushion Batyline eden taupe. Complete your garden furniture with the 2 seater sofa and the coffee tables from the same collection.
Dimensions

Designer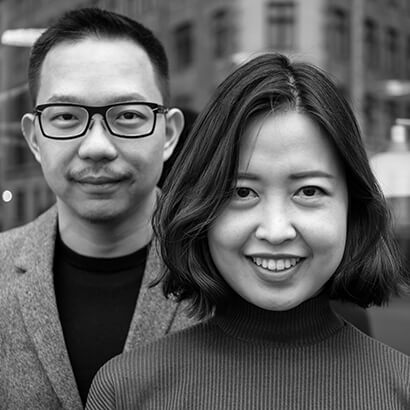 Thinkk Studio
Winner of the design competition orga- nised by Tectona in 2017, THINKK Studio was founded in 2008 in Bangkok by De- cha Archjanun and Ploypan Theerachai. Decha Archjanun, a graduate of ECAL, is drawn to form and design, whereas Ploypan Theerachai, who studied design in Sweden, is passionate about materials and is drawn to detail. Both firmly believe that design should adopt a technological approach backed by a solid understan- ding of manual techniques.
Maintenance tips
1. How to maintain your teak furniture?
It is strongly recommended to perform once a year a washing with water and a little washing powder or soap to rid your furniture of impurities. Teak wood is a wood for all terrains and climatic variations! Due to its density and the oil it secretes, teak is rot-proof. It does not need to be painted or oiled and is particularly suitable for outdoor use. It is also flexible enough to withstand climatic variations and adapt to the terrain.
2. How to preserve the original teak color ?
If your furniture has never been maintained, has not been cleaned once a year and has become grey, we recommend that you clean it with the Net Trol product to get rid of impurities, stains , mold and previous treatments. If your furniture has been maintained, we advise you to clean it with soapy water and a brush and then apply a layer of wood fixative that will delay the grey patina. This product is also effective against stains (table top).
3. Is it necessary to oil or varnish its teak furniture?
Teak oil or linen oil are absolutely not effective, the durability of your furniture will not be lengthened. The varnish is useless.
4. You have just stained your garden teak furniture ?
Aqueous stains can be removed with large amounts of water while grease stains require the use of a textile stain remover.
5. How to clean your outdoor cushions ?
All our cushions are designed with a canvas that is resistant to water, greasy substances and UV rays. Maintenance is easy, here are the steps to follow for an effective result!
- Remove the dirt with a brush.
- Prepare a cleaning solution by mixing water and mild soap or dishwashing liquid.
- Clean with a soft bristle brush.
- Wait for the cleaning solution to penetrate the fabric.
- Rinse thoroughly until all the soap scum is completely removed.
- Dry in the air For greasy stains: buff before any application of stain remover.
- To avoid halos, always buffer from the outside to the center of the stain.
- Consult the instructions for the products used or consult a dry cleaner.
6. You want your outdoor teak furniture to take a grey patina ?
No treatment is needed, the teak wood will naturally take a grey-silver hue.
7. Should I protect my furniture during the winter?
It is advisable to store your furniture with a mechanism (deckchair/folding chair/extending table) in the winter. We offer protective covers for our furniture. However, we do not recommend covering teak furniture for too long without airing them out.