Cicala
Stackable armchair
Delivery on quote
Delivery on quote
Advices & purchasing

+33 1 47 03 05 05
The Cicala collection has a certain undulating quality, evoking the plant kingdom but never straying from purity of form. In the armchair and square table, the union of teak and stainless steel and the harmonious curves enchant, while the diverging armrests of the chair confer comfort and elegance. The round table, in granite, has a primitive, dancing quality, with every angle presenting different contours. The proportions of Cicala were diligently designed to make the collection both intimate and welcoming.
Dimensions

Designer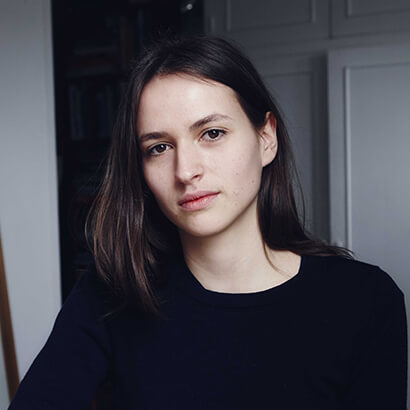 Julie Richoz
After graduating from ECAL, Julie Richoz assisted Pierre Charpin for three years before opening her own design studio in Paris in 2012. In the same year, she won the Grand Prix du Design at Villa Noailles. The diversity of her creations are a testament to her passion for the infinite palette of materials, including glass, ceramic, tapestry and teak. Case in point: for Tectona, teak was combined with stainless steel and granite.
Maintenance tips
1. How to maintain your aluminum furniture?
Maintenance is easy, washing with soapy water and a sponge is enough.
2. What are the advantages of aluminum furniture?
Light and robust, this furniture is easy to move. Aluminum does not rust, so it can be placed without any fear at the seaside. Aluminum is extremely resistant to abrasion.
3. How to clean your cushions?
All our cushions are designed with a canvas that is resistant to water, greasy substances and UV rays. Maintenance is easy, here are the steps to follow for an effective result!
- Remove the dirt with a brush
- Prepare a cleaning solution by mixing water and mild soap or dishwashing liquid
- Clean with a soft bristle brush
- Wait for the cleaning solution to penetrate the fabric
- Rinse thoroughly until all the soap scum is completely removed
- Dry in the air
For greasy stains: buffer before any application of stain remover. To avoid halos, always buffer from the outside to the center of the stain. Consult the instructions for the products used or consult a dry cleaner.
4. Is it possible to paint your outdoor furniture ?
To repaint your furniture, use exterior glyceride paint after applying a clean, dry surface primer.
5. You wish to repair you furniture?
Feel free to contact us for any assitance.