Muse
Oak bench (large model)
Delivery on quote
Delivery on quote
Advices & purchasing

+33 1 47 03 05 05
The new Muse seating provides a level of flexibility that is well suited to spaces that never stop changing such as Muse Picasso-Paris, for which it was created, and other spaces with ever-changing scenography. You can combine the benches in twos or threes, in fact in any way you like, thanks to a nifty design whereby benches can be interlocked discreetly. These pieces invite contemplation and meditation — who would not be delighted to have them at home or to encounter them in a hotel lobby? This collection, in oak, is for indoor use only. The large model of this bench is 110 cm long. Two or more benches must be combined to create a pleasant and inviting seat.
Dimensions

Designer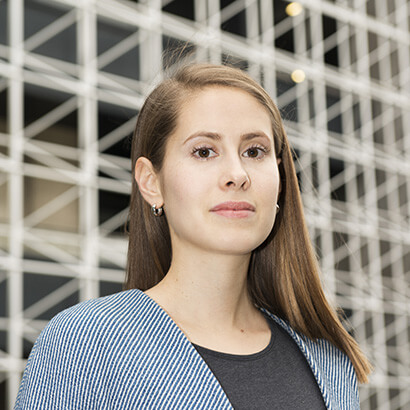 Isabelle Baudraz
After completing jewellery studies, Isabelle Baudraz entered ECAL, the famous Swiss school of design. In her second year of study, in 2017, she took part in a competition organised by ECAL and Musée National Picasso-Paris for the renewal of the museum's seating. Her bench, Muse, received unanimous acclaim from the jury, not only for the ease with which it can be moved and its solidity, but also for its ability to blend in harmoniously with the 17th-century architecture of Hôtel Salé and with the decorative elements by Diego Giacometti. 
Maintenance tips
1. How to maintain your oak furniture?
Use a damp sponge, wipe... to clean and dust your oak furniture. The Muse bench is varnished oak, the varnish is very solid (alkyd based bi component). This bench is intended for indoor use only.
2. Should you varnish or oil your oak furniture?
No need, the applied varnish is very resistant.
3. You have just stained your furniture?
It all depends on the nature of the stain. It is important to know that the applied varnish is waterproof so water stains should not damage your bench thanks to the varnish used. If the stain is important and anchored to the wood, it is necessary to sand the furniture to find the color of the wood and to revarnish it with a varnish golden oak.
4. Does oak forms a patina ?
No, oak does not form a patina. Its color remains intact because the varnish protects the wood. The varnish is very resistant to UV.