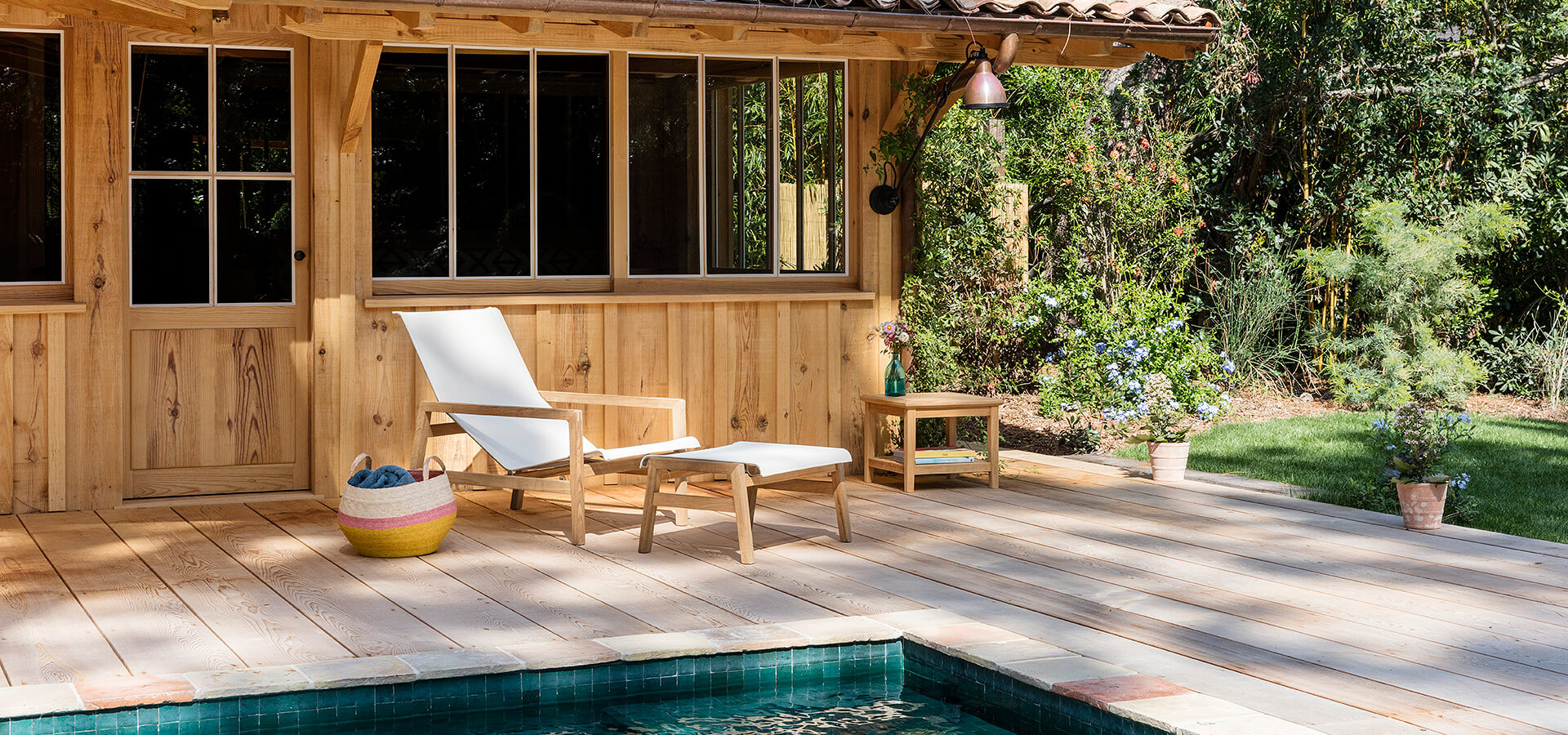 Collection
Southampton
The Southampton collection was imagined by Christophe Delcourt, with the exception of the nesting tables and the lounge armchair. It is characterised by geometric simplicity evoking Art Deco furniture of the 1930s. However technical features to maximise ease of use situate this collection firmly in the modern era: the sliding leaves of the extendable table; the table's easily detachable legs for minimising storage space; folding armchairs; stackable sun loungers fitted with hidden castors… In short, the models of this collection are perfectly adapted to their natural habitat: the outdoors.
Perfect for large get-togethers
The Southampton table is ideal for bringing relatives and friends together around one table. In the standard configuration, two leaves lie under the tabletop, one at each end of the table. To extend the table, you just have to slide them out, then add the required number of folding armchairs (from the same collection — naturellement!). For ease of storage, the legs can be unscrewed from the table then placed snugly under the tabletop.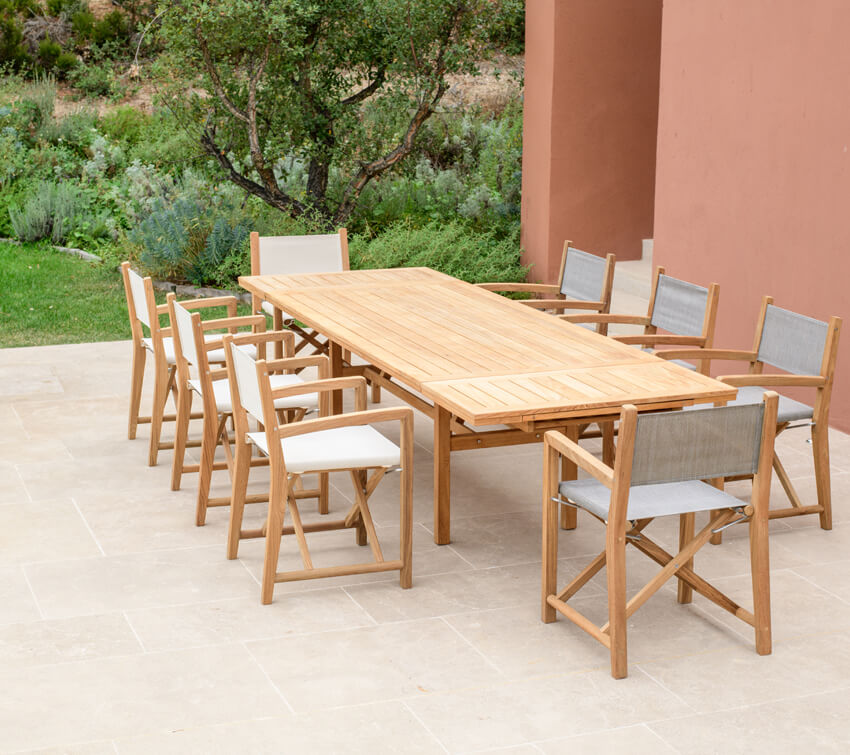 Pure elegance
The Southampton sun lounger combines, with beautiful results, teak and Batyline fabric. Practicality is present: rear legs are fitted with nearly- hidden castors so the loungers are easy to move around; furthermore, several loungers can be stacked for convenient storage. The slanting legs confer visual lightness in addition to ensuring perfect stability. Comfort is assured by the reclinable backrest (four positions) and use of Batyline fabric, which adapts to the natural contours of the human form.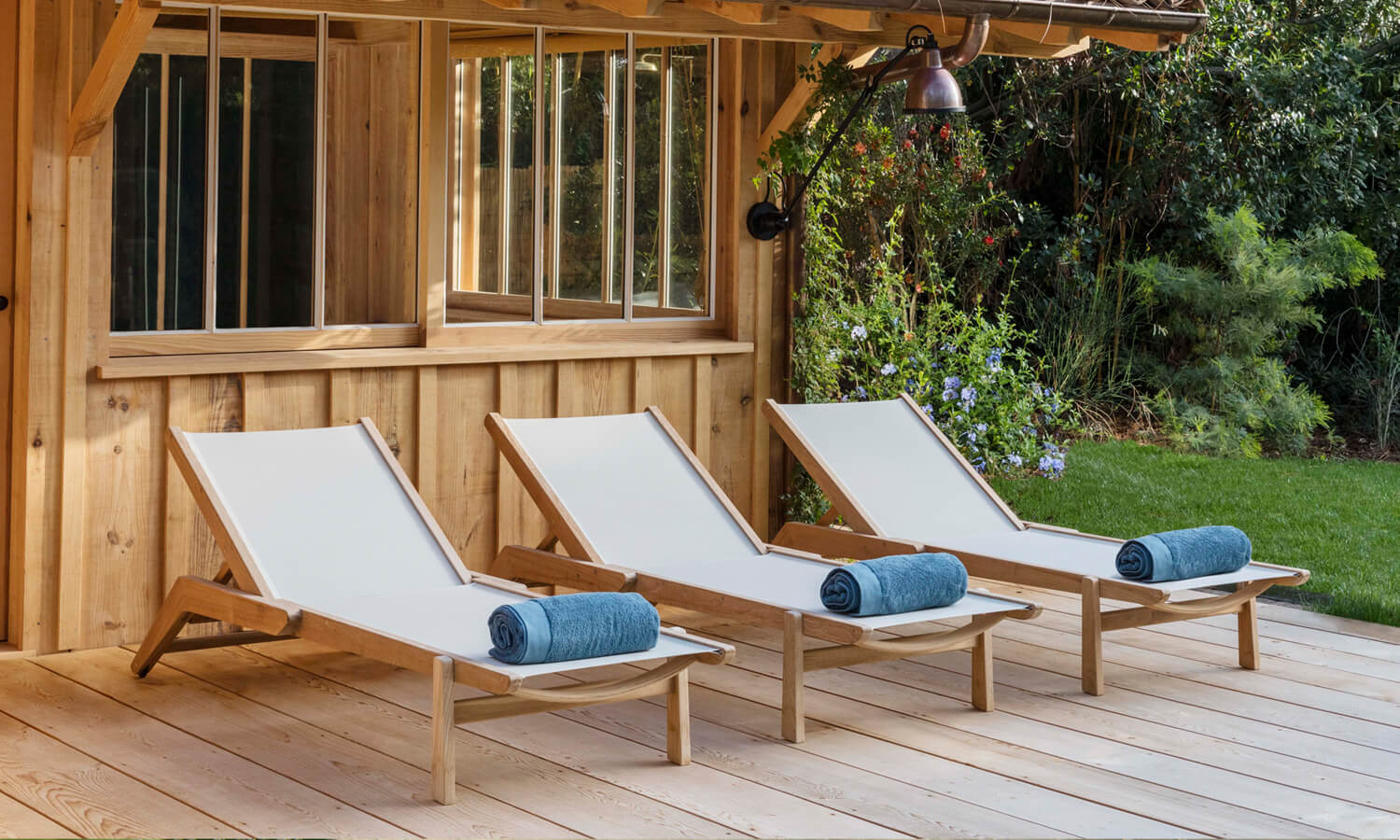 Elegance in comfort
Teak is used throughout the Southampton collection, exclusively in tables and in combination with other materials in seating pieces and the footrest. Elegant simplicity characterises all pieces in this collection. They are also designed with maximum comfort in mind: gently reclining backrests; the crosslegs of the folding tables; the soft and durable Batyline fabric used in seating pieces and the footrest.

Absolute relaxation
Everything in the design of this armchair and its footrest, both designed by Christophe Delcourt, evokes wellbeing. The reclining backrest, the simplicity of the structure and the softness of the Batyline fabric invite you to truly relax. Other advantages of these pieces are their lightness, which makes them easy to use, and their comfort, which obviates the need for cushions. Next to them, the small nesting tables adapt to your current mood: a glass, a book, a catalogue, a laptop…