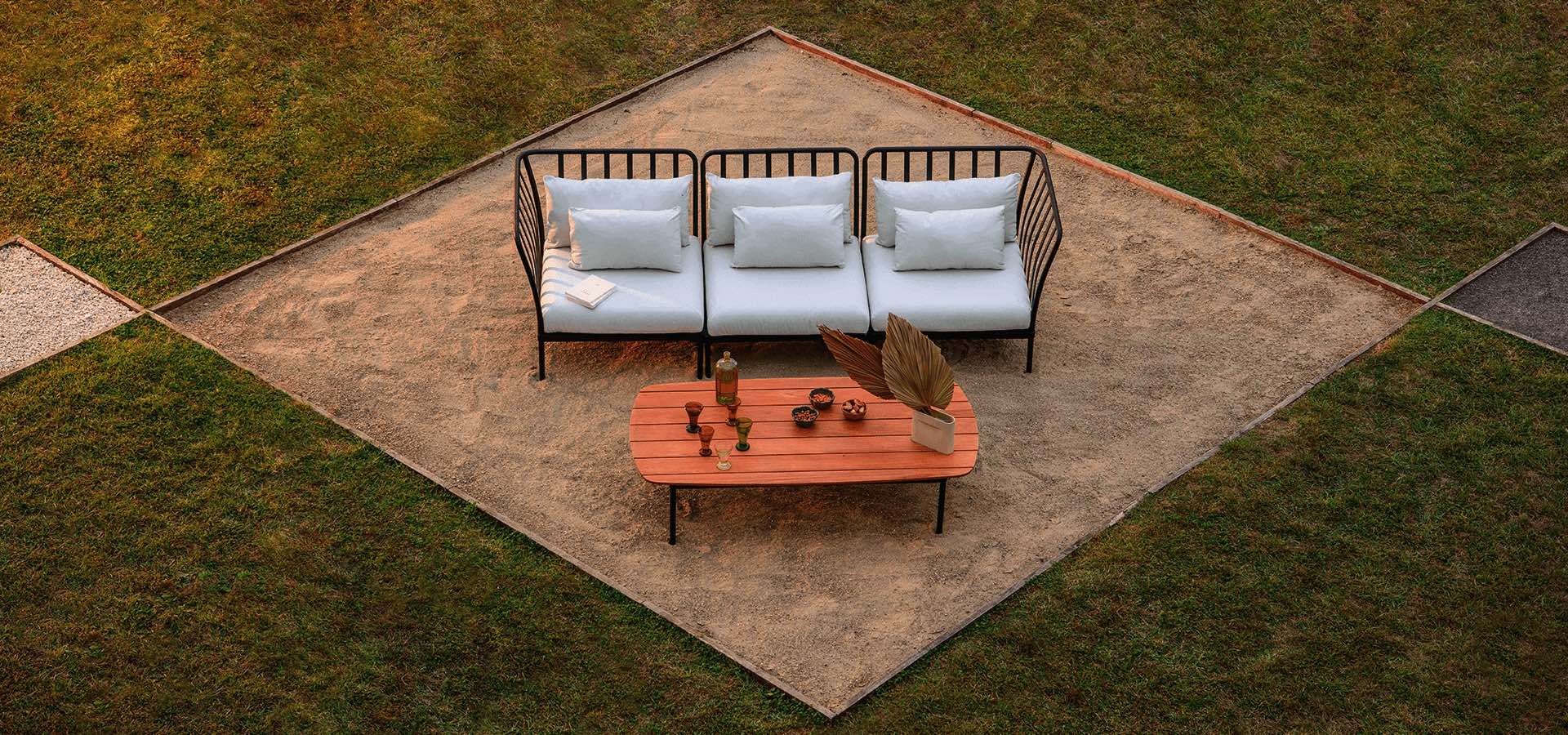 Constance Guisset with Chelsea collection
Constance Guisset puts her keen eye to work in colourful, poetic and functional projects. Case in point: the sleek Chelsea modular sofa she just designed for Tectona. It is actually an updated version of a model she designed a few years ago; this one is closer to the ground hence more conducive to relaxation. Its refined and comfortable lines reflect the brand's classic and contemporary values. Furthermore, the modular nature means you can freely move and configure the components as you please, whether on a patio or lawn.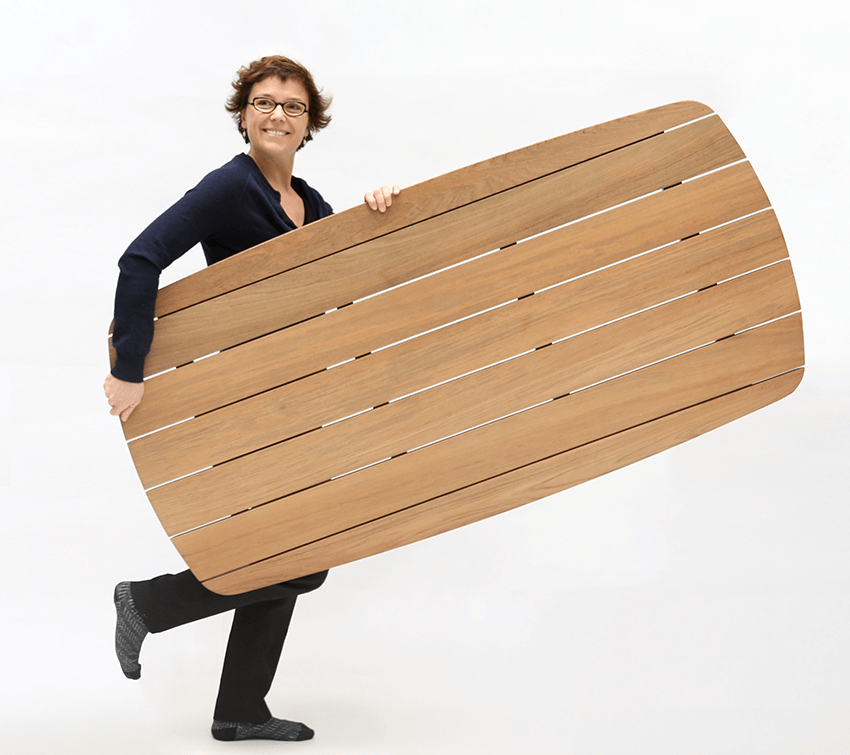 You designed the first version of this sofa; how did you change it?
A few years ago, I designed the first version of the Chelsea sofa after being invited to do so by Tectona. It was the first time I'd been contacted about outdoor furniture and the idea instantly appealed to me. Chelsea would go on to feature in the solo exhibition dedicated to me by the Museum of Decorative Arts in Paris five years ago. Next we decided to improve its qualities by reworking the cushions, lowering the seating position and spacing out the lines. We made it more ethereal, more legible, more visual and more stylish via the pop blue colour.
I firmly believe in the idea of dressing objects, like dressing a mannequin. Actually, for the new version, we simply revealed the sofa's core nature.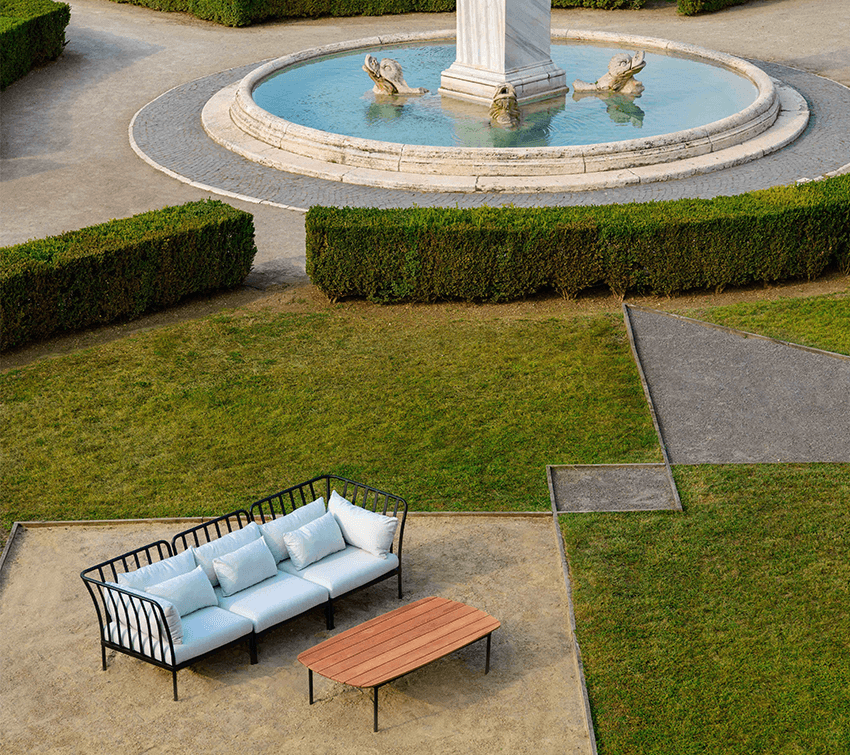 How is this sofa specifically designed for the outdoors?
First it's the dimensions of Chelsea that truly make it a piece of furniture for the outdoors, notably the height of the seat. Our posture is different when we are outdoors versus indoors; we feel less restrained and the lower seat is more conducive to relaxation.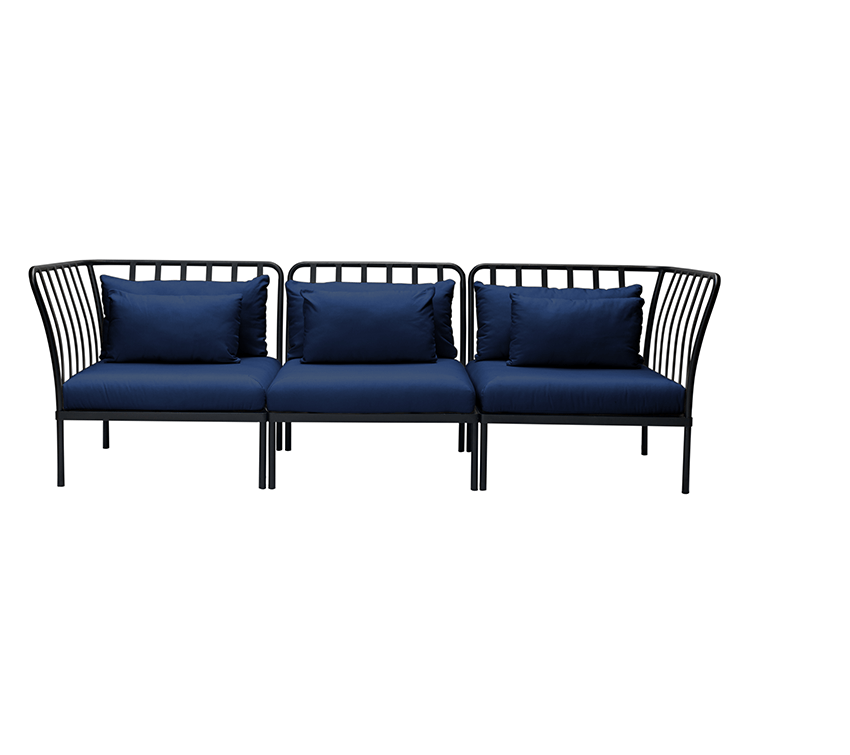 Chelsea is also modular. Does this make it particularly suitable for the outdoors?
The most important requirement for a garden sofa is that it is easy to move, and it's easy to add and remove elements in order to conjure up different living spaces ⎯  that's why it's completely modular. It should also be easy to store away which is why I kept the weight low by choosing aluminium. The modular nature is based on two elements, a corner and a centre module, allowing for a variety of configurations/uses, for example combine two elements when you want to lie down for a siesta or separate the individual elements when you invite some friends for drinks.
Chelsea is a good reflection of my work, in which there is always classicism in some form and also a detail providing a surprising and contemporary spin; a good example is the Vertigo pendant lamp, no doubt my most well-known object. I am very wary of fashion trends… they go out of fashion very quickly. I much prefer the durability of a timeless design.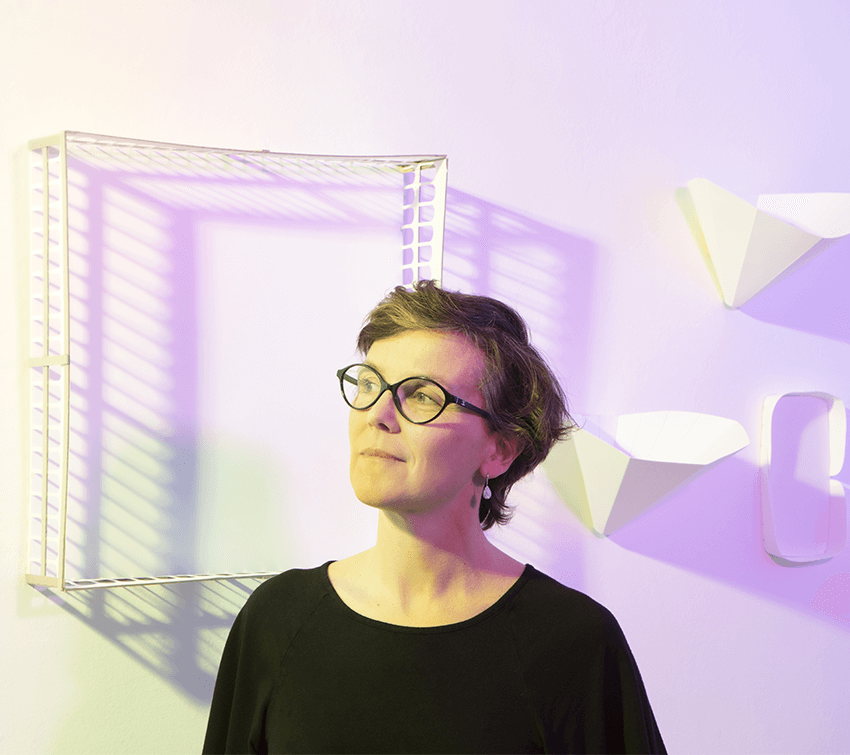 A defining feature of your projects is the fusion of the timeless and the contemporary. How does this model represent this design vision?
After Tectona approached me to design an outdoor sofa, I evaluated their DNA and I realised that this company was above all driven by values of timelessness, midway between contemporary designs and designs imbued with classicism. That's why I paid close attention to the details of Chelsea, notably the angle of the backrest and the strip retaining the slats ⎯ two simple, refined details. Chelsea is inspired by architecture and organic forms via its rounded lines, and the balanced design is both very gentle and structured. (Crédit Photo Felipe Ribon).