Chelsea
Corner module Chelsea Navy Blue
Delivery on quote
Delivery on quote
Advices & purchasing

+33 1 47 03 05 05
The two modules of the Chelsea sofa, in black powder- coated aluminium, offer an infinite variety of arrangements to implement, from expansive and welcoming to small and intimate. The continuous and fluid black contours seem to have been drawn in space. The collection is completed by two coffee tables featuring an aluminium leg assembly and a teak tabletop.
Designer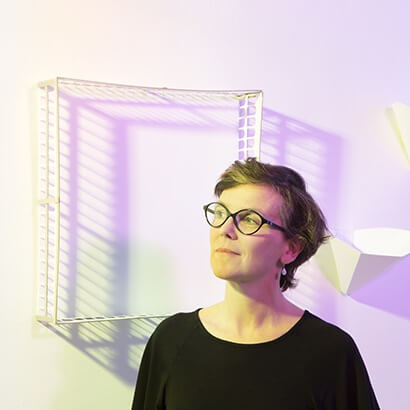 Constance Guisset
Constance Guisset founded her studio, specialised in design, interior design and scenography in 2009. Her work is characterised by a quest for a balance between ergonomics, delicacy and imagination. Each of her objects is the outcome of her ongoing exploration to represent movement with lightness or surprise, without ever compromising high levels of comfort to accommodate people and their movements. She works with many French and international furniture makers; she designs scenographies for shows and for exhibitions; and she has completed many interior design projects. Solo exhibitions dedicated to her have been held at MAD (Museum of Decorative Arts) in Paris in 2018 and Villa Noailles in south France in 2021.
Maintenance tips
1. How to maintain your aluminum furniture?
Maintenance is easy, washing with soapy water and a sponge is enough.
2. What are the advantages of aluminum furniture?
Light and robust, this furniture is easy to move. Aluminum does not rust, so it can be placed without any fear at the seaside. Aluminum is extremely resistant to abrasion.
3. How to clean your cushions?
All our cushions are designed with a canvas that is resistant to water, greasy substances and UV rays. Maintenance is easy, here are the steps to follow for an effective result!
- Remove the dirt with a brush
- Prepare a cleaning solution by mixing water and mild soap or dishwashing liquid
- Clean with a soft bristle brush
- Wait for the cleaning solution to penetrate the fabric
- Rinse thoroughly until all the soap scum is completely removed
- Dry in the air
For greasy stains: buffer before any application of stain remover. To avoid halos, always buffer from the outside to the center of the stain. Consult the instructions for the products used or consult a dry cleaner.
4. Is it possible to paint your outdoor furniture ?
To repaint your furniture, use exterior glyceride paint after applying a clean, dry surface primer.
5. You wish to repair you furniture?
Feel free to contact us for any assitance.